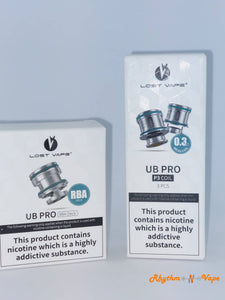 Lost Vape Ultra Boost Pro Coils
Lost Vape Ultra Boost Coils are designed for intense flavour and BIG cloud production. Specially adapted for the Ursa Multi Kit, these coils are well made with Mesh wire for intense firing power and flavour hit!
Choose between Building your own or use their pre-made coils.
UB Pro RBA (Rebuildable Atomiser)
UB Pro 0.15Ω P1 coils (3 pack) 
UB Pro 0.3Ω  P3 coils (3 pack)
---
We Also Recommend
---