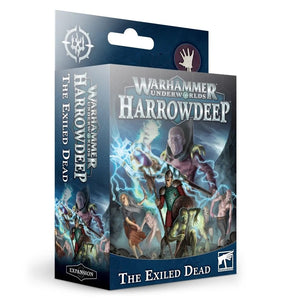 Warhammer Underworlds - The Exiled Dead.
£2600

£26.00
Tax included.
---
---
An Expansion Pack for Warhammer Underworlds, The Exiled Dead consists of a warband made up of 7 Morbid Miniatures, a complete rivals deck for out of the box play with over 70 cards. Including 20 Universal Cards, and 12 Grand Alliance cards for use by multiple warbands and others. 
'The vampire Deintalos dwells in the darkness of Harrowdeep, using the Force Dynamic to reanimate those trapped within its labrinthine depths. Utilising this arcano-electric force which he believes animates all things. The Exiled Dead are his force, acting in an eerie unison with aggression'.
Included in the Expansion Box is:
- 7 Push Fit Exiled Dead Miniatures (supplied unassembled and unpainted) 
- 7 Fighter Cards 
- 65 Cards to enhance fighters and provide new tactics consisting of:
- 12 Exiled Dead Objective Cards 
- 10 Exiled Dead Upgrade Cards
- 10 Exiled Dead Gambit Spell and Ploy Cards 
-  6 Universal Objective Cards 
- 7 Universal Upgrade Cards 
- 7 Universal Gambit Cards 
- 12 Grand Alliance Cards 
- 1 Exiled Dead Warband Background Card. 
---
We Also Recommend
---