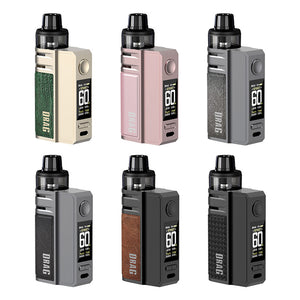 Voopoo E60
£4599

£45.99
Tax included.
---
---
Another new addition to the Voopoo range, the E60 features a built in battery and a slimmer and more compact design. Allowing it to be an easier to carry around all day device. 
Utilising a built in 2550mAh battery and being able to operate up to 60W, the E60 can be a convenient all day vape kit. The PNP II Pod is able to take some of the new additions to Voopoo's PNP Coils whilst still taking the existing range of PNP Coils. Magnetic attachment to the device still follows the Drag DNA but with the new PNP II Pod uses a top filling method makes refilling easier in addition to this the pod now rotates inside the device to adjust your airflow, controlling the tightness of your draw. A minimalist and simple device to use. 
The new and upgraded GENE TT Chipset is designed to help the user out with a variety of new functions and safety features. With smart, RBA and the new ECO mode which automatically activates when the battery levels are low to extend the battery life till you're able to charge up, it also uses Type C which will get you on the go and recharged faster. 
Included in the Box: 
- Voopoo E60 Mod 
- Voopoo PNP II Tank 
- PNP TW30 0.3Ω Mesh Coil (28W-36W) 
- PNP TW20 0.2Ω (40W-55W) 
- Type C Cable 
- User Manual and Warranty Card 
---
We Also Recommend
---