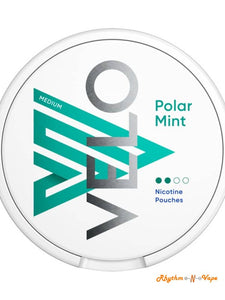 Velo Polar Mint 6mg Pouches
Velo Nicotine Pouches are a Scandinavian invention for a tobacco derived product that comes in a pouch form, a tobacco/leaf free way to get nicotine. They are designed to be placed in-between your gums and mouth where they release their nicotine content over a period of 30 minutes. 
Available in a variety of flavours and strengths they can suit a variety of users who no longer want to smoke or vape and want something easy to carry and is convenient in daily life. Produced with high quality ingredients, plant based materials, sweeteners, water and nicotine.
Coming in packs of 20 pouches per container with a separate waste compartment to place your used pouch when finished. They could easily become an alternative to vaping and smoking without the smoke or vapour, smell or tobacco. 
Flavour- A full bodied spearmint with a hit of cooling menthol. 
---
We Also Recommend
---