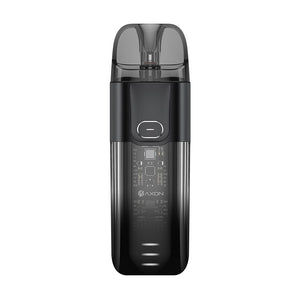 Vaporesso Luxe X
£3199

£31.99
Tax included.
---
---
The Luxe X from Vaporesso is a 40W Pod Kit that uses a closed pod. With a 1500mAh battery the Luxe X is made to be with you throughout the day and able to keep up throughout. Allowing your vaping habits to be fulfilled. 
Either useable as a Direct to Lung set up with the 0.4Ω Mesh Pod which works at 32W as a set output. Alternatively the Luxe X can be used as a loose Mouth to Lung Device when used with the 0.8Ω Mesh Pods which automatically set at 16W. The airflow can be adjusted slightly by rotating the pod 180 degrees to use either airflow configuration. 
The Axon Chipset which powers the device will regulate and control all of the necessary settings whilst it is in use, and set the wattage range for the pod that is inserted. With type C Charging the chipset will also ensure that you get charged up faster and back on the go. 
Included in the Box: 
- Vaporesso Luxe X 
- Luxe X 0.4Ω Mesh Pod 
- Luxe X 0.8Ω Mesh Pod 
- Type C Charging 
- User Manual 
---
We Also Recommend
---