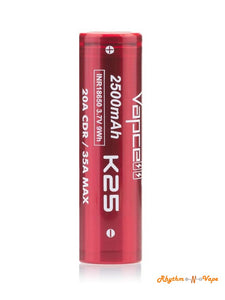 Vapcell K25 18650 Battery
The Vapcell K25 is an 18650 battery with a 2500mAh capacity. Rated with a maximum continuous discharge of 20A. 
18650 batteries come in a variety of capacities and amp ratings, and will fit most regulated or unregulated mods. However, something to consider is whether the batteries you are considering are going to work best with your style of vaping. For wattages above 50W a higher capacity and amp rated battery may suit better as lower rated batteries can become hot under heavy usage
Specifications of the Vapcell K25 Battery.
Battery size : Ø18.00mm x 64.90mm
Nominal Voltage : 3.60V
Nominal Capacity : 2500mAh
Min. Rated Capacity : 2450mAh
Charging Metod : CC/CV 4.20V ± 0.05 V, 100mA Cut Off
Discharge Voltage : 2.50V (Average Cut Off)
Standard Charging Current CC : 800mA
Rapid charging Curent : 2500mAh
Charging Temperature : 0 ° to 45 °C
Operating Temperature : -20 ° to 60 °C
Continuous Discharge Current : 20A Max.
Max. Short Pulse discharge rate : 35A
Weight: 45 gr. max
Colour : Red
Version : Flat Top
Protection Circuit Board / PCB : No / Unprotected
Type : Rechargeable IMR, INR, High Drain
---
We Also Recommend
---