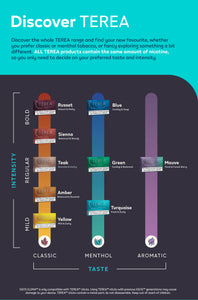 Terea (only for Iluma)
Terea are Tobacco Sticks designed solely for use with the IQOS Iluma line of devices. 

With an integrated metal heating element seated in the middle of the stick and utilising the SmartCore Induction Heating Technology from IQOS these sticks show benefit from the previous use of HEETS. With an enclosed design keeping the tobacco sealed inside of the stick this removes the additional cleaning of the device after continued use by the user. 
Still available in a variety of tobacco intensities and menthol strengths as well as containing the same amount of nicotine in each variety regardless of which style/flavour that you choose.
Terea Range Available as a pack of 20 Tobacco Sticks. 
Classic
Yellow - Mild and Zesty with aroma notes of citrus.
Amber - Balanced and Roasted with a nutty aroma 
Teak - Rounded and Nutty with a coconut aroma 
Sienna - Balanced and Woody with aroma notes of black tea 
Russet - Robust and Malty with a malty aroma.  
Menthol 
Turquoise - Fresh and Zesty with Citrus aroma 
Green - Cooling and Balanced with Peppermint Aroma 
Blue -  Cooling and Deep with Peppermint Aroma 

Aromatic 
Mauve Wave - Fresh and Forest Berries with blueberry aromatic notes. 
---
We Also Recommend
---