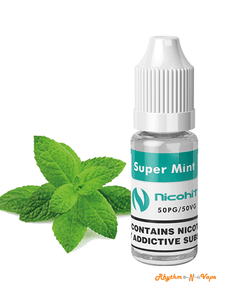 Super Mint 10ml
if you like a strong mint then we have a pleasant surprise for you with the blast of mint called super mint.
This is another fantastic 10ml range that is 50/50 containing Vegetable glycerine (VG) Propylene glycol nicotine and artificial flavours. Available in 3, 6, 1,2 ,18mg nicotine strength 
This range is highly recommended by the staff at Rhythm N Vape.
---
We Also Recommend
---