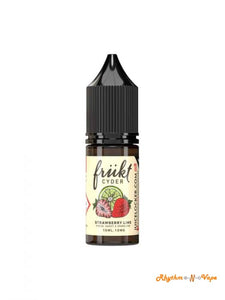 Strawberry Lime Frükt Cyder Nicotine Salts.
Frukt Cyder is a Sweet and delicious blend of cider and fruits for everyone to enjoy! Perfectly blended fruits and berries to make an excellent cyder experience, You don't have to be a cider enthusiast to love these flavours! 
Now available in 10ml Nicotine Salts designed for smaller kits and at a 50/50 PG/VG ratio and either as a 10MG or 20MG Nicotine Strength. 
Strawberry Lime -The ultimate summer cider from the ultimate cider creators, delicious wild strawberries are paired perfectly with the sweet sharpness of limes. Frukt Cyder can't provide the sun but they definitely have the eliquid to go with it!
---
We Also Recommend
---