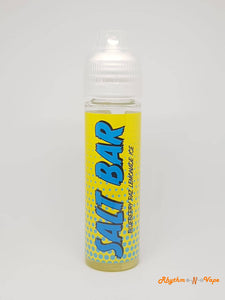 Blue Raz Lemonade Ice Salt Bar
£1399

£13.99
Tax included.
---
---
Blue Raz Lemonade Ice 
One of the best combinations of sweet candied raspberry mixed with fizzy lemonade. 
Produced in the UK to the highest standards, Salt Bar e-liquid is available in a 50/50 consistency designed to be used with starter kits. Coming in a variety of strengths and the optional choice of adding extra ice. They are designed to be the next step in flavour options when moving from disposables to a refillable kit. Or if you enjoy some of the flavours they have on offer this is the perfect alternative. 
This bottle is designed for the addition of 3 x Nicotine Salt Shots to achieve your desired nicotine strength
3 x 20mg Nic Salt Shot = 10mg
2 x 20mg Nic Salt Shot, 1 x 0mg Nic Free Shot = 6mg
1 x  20mg Nic Salt Shot, 2 x 0mg Nic Free Shot = 3mg
3 x 0mg Nic Salt Shot = Nicotine Free
(If ordering online place a note with your order regarding the strength of the liquid that is desired) 
---
We Also Recommend
---