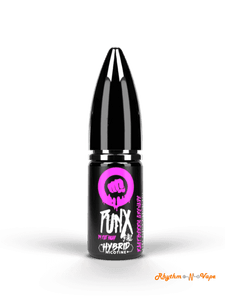 Raspberry Grenade Riot S:ALT PUNX
Raspberry Grenade is back as part of the new PUNX S:ALT range from riot squad. 
Sweet and Sharp Raspberry mixed in with fizzy and sherbet lemonade will provide your tastebuds with complex layers of flavour. 
Riot Squads pioneering range of nicotine salts that have flavour options for all vapers out there. Utilising a Hybrid Nicotine style they aim to be the alternative to smoking with a unique and innovative blend of Nicotine Salt and Freebase Nicotine in their S:ALTS designed to help people stop smoking successfully.
An award-winning range at the Ecigclick awards 2019.
VG/PG Ratio 50/50 and available in a 5MG, 10MG or 20MG premixed strengths in a 10ml bottle.
LIVE : LIFE : ALT
---
We Also Recommend
---