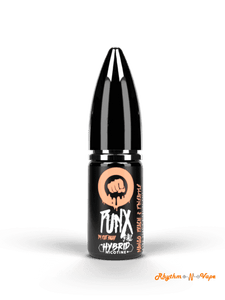 Mango, Peach and Pineapple Riot S:ALT PUNX
Mango, Peach and Pineapple is part of the new PUNX S:ALT range from riot squad. 
A heavenly Caribbean fusion of fruits that will give your tastebuds a tropical storm. 
Riot Squads pioneering range of nicotine salts that have flavour options for all vapers out there. Utilising a Hybrid Nicotine style they aim to be the alternative to smoking with a unique and innovative blend of Nicotine Salt and Freebase Nicotine in their S:ALTS designed to help people stop smoking successfully.
An award-winning range at the Ecigclick awards 2019.
VG/PG Ratio 50/50 and available in a 5MG, 10MG or 20MG premixed strengths in a 10ml bottle.
LIVE : LIFE : ALT
---
We Also Recommend
---