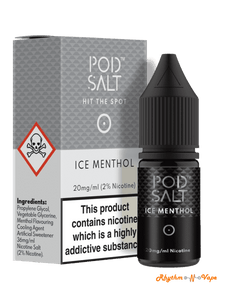 Ice Menthol
POD SALT ICE MENTHOL 10ML NICOTINE SALT E-LIQUID
The Ice Menthol Nicotine Salt E-Liquid by Pod Salt is a refreshing menthol nicotine e-liquid for a cooling vape experience. Ice Menthol by Pod Salt is available in a 11mg or 20mg nicotine strength format.
Our premium quality Nicotine Salt blend is absorbed faster and offers a more intense level of satisfaction that traditional nicotine e-liquids.

The Pod Salt Core range is manufactured with British-made e-liquid.
---
We Also Recommend
---