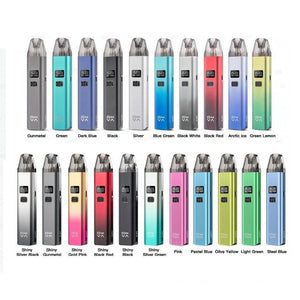 OXVA XLIM V2
£2999

£29.99
Tax included.
---
---
The XLIM V2 is a popular pod kit from OXVA, featuring a slimline design that is easily pocketable. 
The XLIM V2 has a 900mAh battery and performs best as a mouth to lung set up. Using a closed pod system which allows the user extra simplicity and ease as you don't need to change individual coils but instead change the whole pod itself, furthermore refilling is a breeze with its silicon tabs located towards the lower side of the pod and it semi-transparent design allows you to see how much liquid is left in the pod before it requires refilling. The Pods are available in 3 different resistances with each having its own wattage range and draw style, which can be further adapted through the airflow control on the device itself.
A small but informative screen shows you all of the relevant information whilst in use and you can also change the wattage of the kit to your own preference depending on the range of the pod you have in use. Battery, Wattage and Resistance are all shown on the screen whilst in use and a dual firing method allows you to either press the button to fire or you have the option of using the auto-draw function to make vaping simple and easy. 
The XLIM is one of the most popular kits around due to its excellent form, how it operates and the flavour from its pods. 
Included in the Box: 
-OXVA XLIM V2 
- XLIM 0.8Ω Mesh Pod
- XLIM 0.6Ω Mesh Pod (preinstalled) 
- Type C Charging Cable
- User Manual 
---
We Also Recommend
---