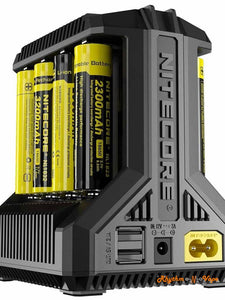 Nitecore i8 Battery Charger
£4999

£49.99
Tax included.
---
---
The Nitecore i8 Intelligent Charger is the latest charger from the Intellicharge Nitecore range, ideal for charging a huge variety of batteries whether used for vaping, torches or other electronic devices. 

Featuring 8 bays that are controlled independently, the i8 automatically detects power levels of the batteries and selects the appropriate voltage and charging mode. In addition, the charger offers reverse polarity protection and short circuit protection, ensuring you are made aware of the error with a flashing red indicator above the appropriate bay should there be a problem with one of the inserted cells.
Active Current Distribution (ACD) allows the i8 to actively distribute its power among 8 slots in an orderly manner. For instance , when a battery is almost fully charged the charger will divert a portion of its current to charge other batteries.
Output currents as follows: 1.5A x 2 Bay, 1A x 4 Bay, 0.75A x 4 Bay, 0.5A x 8 Bay

Despite offering double the bays to the Intellicharger i4, the Nitecore i8 is just as simple and easy to use. Simply insert the batteries into a bay, a red indicator will illuminate above the bay when charging is in progress and will change to green when charging is complete. No complicated menus to use as the charger does all of the work for you.
The Nitecore i8 is made from flame retardant, fire resistant PC materials and has a unique grill design on the top of charger for faster heat dissipation. These features ensure the charger provides a safe, reliable and simple charging experience.
Buy direct from the UK distributor to ensure you receive the genuine item with full warranty backup. Certified by RoHS, CE, FCC and CEC.

Compatible with:

Li-ion / IMR: 10340, 10350, 10440, 10500, 12340, 12500, 12650, 13450, 13500, 13650, 14350, 14430, 14500, 14650, 16500, 16340 (RCR123), 16650, 17350, 17500, 17650, 17670, 18350, 18490, 18500, 18650, 22500, 22650, 25500, 26500, 26650

Ni-MH (NiCd): AA, AAA, C and D cell
Operating Instructions:
Connect to power source: Plug one end of the power cord or car charger adapter into the chargers power input. Plug the other end into a wall outlet.
Insert Batteries: The Nitecore i8 features 8 charging slots, which is capable of charging a battery in each slot independently. after battery installation the i8 automatically activates and detects batteries. The red power indicator will illuminate during charging. the green power indicator will turn on once charging is complete.
Note: 1) Recommended to put batteries on the same side in order for them to charge at the fastest speed.
2) When charging batteries of small capacity, the i8 will charge them at a rate of 500mA. Batteries under 60mm in length will automatically be identified as small capacity batteries.

The Nitecore i8 charger comes with a 3 pin UK plug.
Features
Input: AC 100-240V 50/60Hz 0.6A (Max) 30W DC 12V 3A
Output Voltage:
Battery - 4.2V±1% / 1.48V±1%
USB - 5V±5%
Output Current:
Battery - 1.5Ax2, 1Ax4, 0.75Ax4, 0.5Ax8
USB - 5Vx2.1A
Size: 117 mm wide x 101 mm deep x 134.5 mm tall / 4.61" x 3.98" x 5.30"
Weight: 488.2 grams / 17.22 oz.
Compatible with the followin battery chemistry / types:
Li-ion / IMR: 10340, 10350, 10440, 10500, 12340, 12500, 12650, 13450, 13500, 13650, 14350, 14430, 14500, 14650, 16500, 16340 (RCR123), 16650, 17350, 17500, 17650, 17670, 18350, 18490, 18500, 18650, 22500, 22650, 25500, 26500, 26650
Ni-MH (NiCd): AA, AAA, C and D cell
---
We Also Recommend
---