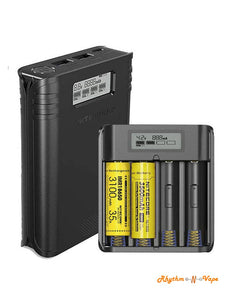 Nitecore F4 Charger
£3299

£32.99
Tax included.
---
---
The Nitecore F4 Charger is a 4 bay charger that can also be used as a portable charger that utilises the 18650's that can be inserted as a on the go power bank. 
Designed for 18650 batteries only, the F4 can be used as a charging unit in the house to fill up your batteries for your needs but also can be taken out of the house and used with the batteries as an on the go power using 2 output ports on the top of the charging unit rated at 5V/2A. The input of the device is a micro usb cable rated at 5V/2A.
A display LCD on the screen shows the relevant information when charging up the batteries inside the charger or alternatively using it to charge other devices will show you the capacity and what has been used. A sliding cover also helps protect the batteries when they are inserted and more so when they are being used to charge up an external device. 
Included in the Box:
- Nitecore F4 Charger 
- Micro USB Charging Cable
- User Manual and Warranty Cards
---
We Also Recommend
---