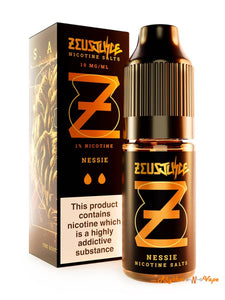 Nessie Zeus Nicotine Salt
Zeus Juice is incredibly popular within the vaping industry for delivering the highest quality flavours and e-liquid available. Combined with their vast selection of flavours the Zeus juice range will deliver an exceptional vaping experience every time.
Nessie is the favourite Scottish Brew, Zeus's own take on the mysterious combination that is Irn Bru. A complex mixture of Orange, Blackberry, Bubblegum and Tutti Frutti. 
10ml of Premium e-liquid by Zeus Juice! Enjoy :D
---
We Also Recommend
---