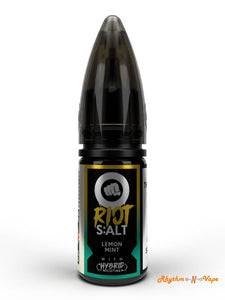 Lemon Mint Riot S:ALT
Squeeze a generous drizzle of this amazing liquid into your favourite vape device for the perfect Zesty Lemon and Mintyness!
A Zesty sensational punch of Lemon coupled with a mint crush to give you the refreshing blast and citrus explosion you've been craving! 
Riot Squads pioneering range of nicotine salts that have flavour options for all vapers out there. Utilising a Hybrid Nicotine style they aim to be the alternative to smoking with a unique and innovative blend of Nicotine Salt and Freebase Nicotine in their S:ALTS designed to help people stop smoking successfully.
An award-winning range at the Ecigclick awards 2019.
VG/PG Ratio 50/50 and available in a 5MG, 10MG or 20MG premixed strengths in a 10ml bottle.
LIVE : LIFE : ALT
---
We Also Recommend
---