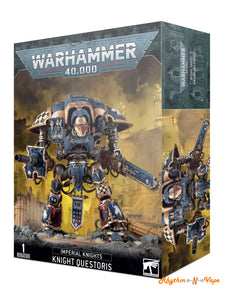 Knight Questoris Imperial Knights
£10000

£100.00
Tax included.
---
---
The Knight Questoris set builds One Miniature. 
Becoming one of the most prominent variety of Knight Armour on the battlefield the Questoris have been configured in a variety of ways in regards to their weapon set ups and hull configurations. Striding alongside the Legiones Astartes, Taghmata Omnissiah and armies of the Knights Households, the towering war machine that dominates over infantry, vehicles and opposing knights. 
A 250 piece kit will allow you to build your Knight Questoris in a myriad of ways, with a Citadel 170x109mm base plate and a 25mm Citadel plate. Furthermore a transfer sheet featuring 386 optional markings will give you the opportunity to customise the design of this colossal war machine. 
Brand new in the packaging the Knight Questoris is unpainted and unassembled. Recommended to be assembled with Citadel Plastic Glue and the Citadel range of paints. 
---