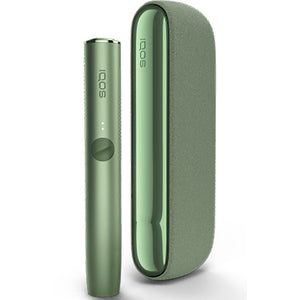 IQOS Iluma
£6900

£69.00
Tax included.
---
---
The Iluma from IQOS is an upgraded version of their most iconic kit. Able to take a heated tobacco experience to the next level. Designed to be a more premium device to use than the Iluma One, the Iluma features the separate pen and holder that users of the IQOS DUO kit will be familiar with. 
Using new Auto-heating SmartCore Heating Technology using Induction to heat up the new Terea Tobacco Sticks when inserted into the pen. Which provide the user with a easier mess free experience in comparison to the HEETS used with the DUO Kit. The Terea are self contained Tobacco sticks with a new cap on the bottom which keeps the Tobacco held within the stick and removes the need to clean the Pen after a few uses. Available in different intensities of tobacco strength and also in menthol options, they all contain the same amount of nicotine per stick regardless of which option you opt for. 
The Pen itself will hold enough charge for 2 of the sticks whereas the holder will keep a further 18 charges worth in itself allowing you to heat through a pack of Terea before it will need recharging. Just place the Pen back inside the holder and it will charge it back up and the whole kit charges up by Type C when required. 
Holding success with converting smokers away from cigarettes IQOS has been used by millions of adult smokers worldwide as they deliver an authentic cigarette experience whilst presenting less risk to your health 
As IQOS systems use heated tobacco as their nicotine delivery system they are rated as emitting up to 95% less harmful chemicals than traditional cigarettes. 
However if you are struggling to stop smoking with using vapes this is seen as a better alternative to smoking cigarettes as it provides some betterment to the user. 
Important information: It does not necessarily equal a 95% reduction in risk. IQOS is not risk-free.
*"95% less" represents the average reductions in levels of a range of harmful chemicals (excluding comparednicotine) to the smoke of a reference cigarette.  See Important Information on IQOS.com
IMPORTANT INFORMATION: The absence of tar does not mean that IQOS is risk free. IQOS ILUMA provides nicotine, which is addictive.
** Average reductions in levels of a range of harmful chemicals (excluding nicotine) compared to cigarette smoke.
†Based on the totality of evidence available for IQOS in comparison with continuing to smoke.
*** Claim compares (i) the cost of smoking an average priced pack of cigarettes (with king size filter) per day, and (ii) the cost of buying an IQOS ILUMA One Starter Kit (RRP £39) or IQOS ILUMA (RRP is £69), and then consuming one packet of TEREA daily (RRP £6). In April 2023 the average price for a packet of cigarettes with king size filter was £14.40 (ONS data). Savings will vary depending on ILUMA model and Starter Kit selected. For further information, visit www.iqos.com/legal.
---
We Also Recommend
---