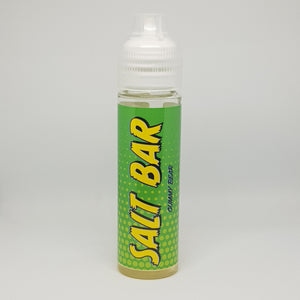 Gummy Bear Salt Bar
£1399

£13.99
Tax included.
---
---
The perfect mix of a myriad of fruits, Gummy Bear from Salt Bar is the exact replication of what has become one of the most popular flavours in vaping. The hard to be exact mix of sweet fruits coming as tiny little bears now available to put in your pod kit. 
Produced in the UK to the highest standards, Salt Bar e-liquid is available in a 50/50 consistency designed to be used with starter kits. Coming in a variety of strengths and the optional choice of adding extra ice. They are designed to be the next step in flavour options when moving from disposables to a refillable kit. Or if you enjoy some of the flavours they have on offer this is the perfect alternative. 
This bottle is designed for the addition of 3x 20MG Nicotine Salt Shots to achieve a 10mg overall strength, all flavours contain ice but there are optional ice shots to intensify the ice of the liquids. 
3 x 20mg Nic Salt Shot = 10mg
2 x 20mg Nic Salt Shot, 1 x 0mg Nic Free Shot = 6mg
1 x  20mg Nic Salt Shot, 2 x 0mg Nic Free Shot = 3mg
3 x 0mg Nic Salt Shot = Nicotine Free
(If ordering online place a note with your order regarding the strength of the liquid that is desired) 
---
We Also Recommend
---