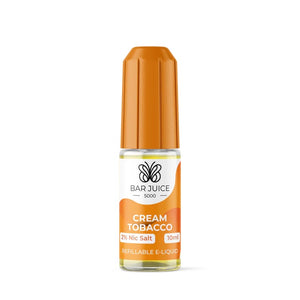 Bar Juice - Cream Tobacco
Bar Juice is a British Manufacturer of vape liquids who are challenging disposable "bars" by creating a great range of mouth-watering flavours designed to convert people from the disposables. 
From their desire to create affordable vaping with high quality liquids with the finest ingredients for the best flavour and experience. 
Are you the kind of person to bring out the finest cigars during a special occasion, to enjoy the intense and earthy flavours? But prefer it with a bit more creamy smoothness? The joining of these two flavours delivers you the perfectly relaxing experience sitting back and relaxing with a cigar. Both with style and substance.
Available in 10MG/20MG with a Nicotine Salt Formulation in a 10ML Bottle. 
---
We Also Recommend
---