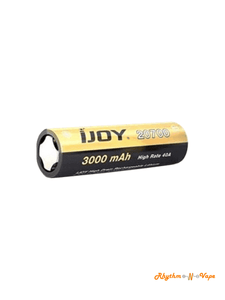 IJOY 20700 3000mAh 40A Battery
£1399

£13.99
Tax included.
---
---
20700 batteries come in a variety of capacity's and outputs (amps) and will fit most regulated or unregulated vape devices.
Rechargeable.
The iJoy 20700 40AMP battery that is being manufactured by the company has a diameter of 20mm and a length of 70mm. It has a capacity of 3000mAH, a nominal voltage of 3.7V, and a peak voltage of 4.2V. It is fully rechargeable, and it is designed to be compatible with many existing chargers. iJoy has created this battery with those who enjoy vaping all day in mind, so it should be able to provide you with the power and performance you will need to vape for an extended period of time on a single charge.
IJOY 20700 Battery Features:
Dimensions: 20mm*70mm (18650 batteries are 18mm*65mm)
Battery Capacity: 3000mAh
Amperage: 40A
Please think carefully when selecting batteries and consider the Amps and Capacity to suit your device or vaping style. For any assistance please ask a member of the team.
If you're vaping on a high wattage 50 watts plus we would highly recommend to use a high amp battery as the lower amp batteries can get hot.
On lower wattages 50 watts or below it is perfectly safe to use a lower Amp battery.
---
We Also Recommend
---