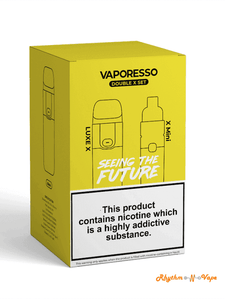 Vaporesso Luxe X and X Mini Moti Double Pack
£3499

£34.99
Tax included.
---
---
The newest additions to Vaporesso's line up the Luxe X and the X Mini Moti are both designed to be a convenient, simple daily carry vape. Now available as a double pack! 
The Luxe X features a 40W maximum output with a closed pod system. With a 1500mAh battery the Luxe X is made to be with you throughout the day and is able to keep up with your vaping habits. Able to perform as a Direct To Lung Kit or a loose Mouth to Lung Kit, the closed pods are available as a 0.8Ω which works at 16W or a 0.4Ω pod which works at 32W with the option to adjust the airflow by flipping the pod 180 degrees to utilise either airflow holes. 
The Axon chipset which powers the device will regulate all of the necessary settings whilst in use and provide user safety protections. 
The X Mini Moti is a pocket friendly 29W maximum output kit, paired up in this pack with the Luxe X. The Mini uses a 1150mAh battery allowing it to keep up with you throughout the day. Ergonomically designed the X Moti is comfortable in the hand and easy to use, with a magnetic pod and utilising a push n pull coil change system the Moti is almost as simple to use as the Luxe X 
This Set Includes- 
- Vaporesso Luxe X in Black 
- 0.8Ω Mesh Coiled Closed Pod 
- 0.4Ω Mesh Coiled Closed Pod 
- Type C USB Cable 
-User Manual
- Vaporesso X Mini Moti in Random Colour
- 0.35Ω Mesh Coil
- Type C USB Cable 
- User Manual 
---
We Also Recommend
---