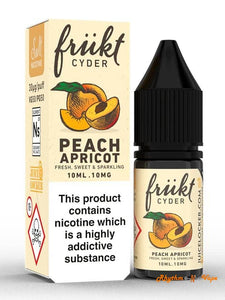 Peach Apricot Frükt Cyder Nicotine Salts.
Frukt Cyder is a Sweet and delicious blend of cider and fruits for everyone to enjoy! Perfectly blended fruits and berries to make an excellent cyder experience, You don't have to be a cider enthusiast to love these flavours! 
Now available in 10ml Nicotine Salts designed for smaller starter kits. Mixed to a 50/50 PG/VG ratio and available as a 10MG or 20MG Nicotine Strength. 
Peach Apricot by Frukt Cyder - The smoothest of fruity vapes around, this tasty cider flavour juice combines mouth-watering peaches with ripe apricot for a summer flavour soother!

---
We Also Recommend
---