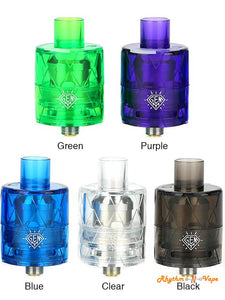 FreeMax Gemm Disposable tank
G1 Single Mesh 0.15ohm 40-80watts
G2 Double Mesh 0.2ohm 40-80watts
G3 Triple Mesh 0.15ohm 50-90watts
G4 Quad Mesh 0.15ohm 40-80watts
The Freemax disposable tanks are practically designed for the on-the-go vaper. Everything is build in for convenience and they are easy to operate on a fill and go system. 

Simply fill the tank with your favourite e-liquid, wait about 5 mins for it to soak in and away you go! Simples.....
These tanks are disposable so they will need to be responsibly disposed of in a bin. 
Packs of 2 in a variety of strength and Ohms resistance.
510 connector to fit any regulated vaping mod.
---
We Also Recommend
---