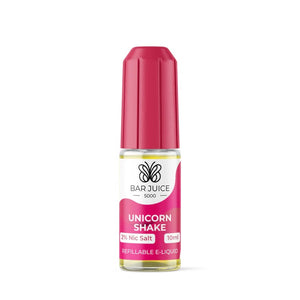 Bar Juice - Unicorn Shake
Bar Juice is a British Manufacturer of vape liquids who are challenging disposable "bars" by creating a great range of mouth-watering flavours designed to convert people from the disposables. 
From their desire to create affordable vaping with high quality liquids with the finest ingredients for the best flavour and experience. 
A spiritual and mysterious creature, the Unicorn with its magical powers and seclusion. 
The Childlike joy of relaxing with. freshly made milkshake composed of berry and banana, with whipped marshmallow cream and a sprinkling of fruit loop cereal finished off with a drizzle of sweet raspberry sauce. 
Available in 10MG/20MG with a Nicotine Salt Formulation in a 10ML Bottle. 
---
We Also Recommend
---