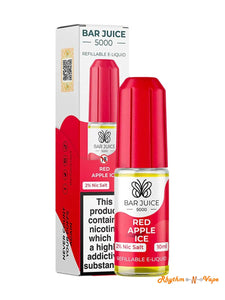 Bar Juice - Red Apple Ice
Bar Juice is a British Manufacturer of vape liquids who are challenging disposable "bars" by creating a great range of mouth-watering flavours designed to convert people from the disposables. 
From their desire to create affordable vaping with high quality liquids with the finest ingredients for the best flavour and experience. 
The perfectly deep rouged apple, brought up to a brilliant shine as its rubbed against your shirt like a cricket player. The Red Apple Ice, is the exceptional combination of the best red apples complimented with a icy refreshing exhale. 
Available in 10MG/20MG with a Nicotine Salt Formulation in a 10ML Bottle. 
---
We Also Recommend
---