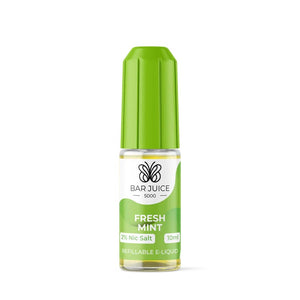 Bar Juice - Fresh Mint
Bar Juice is a British Manufacturer of vape liquids who are challenging disposable "bars" by creating a great range of mouth-watering flavours designed to convert people from the disposables. 
From their desire to create affordable vaping with high quality liquids with the finest ingredients for the best flavour and experience. 
A little green leaf, something so basic but can be so good whether its blended in a mojito, or as a decoration on a cake. The reliable and dependable mint, one of the most versatile flavours. It may not be the most extravagant or exotic but it is definitely a simple staple. Sweet and Icy the Fresh Mint is a fresh flavour with just a little touch of ice. 
Available in 10MG/20MG with a Nicotine Salt Formulation in a 10ML Bottle. 
---
We Also Recommend
---