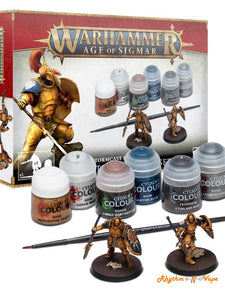 Age Of Sigmar Stormcast Eternals Vindicators + Paints.
£2250

£22.50
Tax included.
---
---
The Vindictors are the shield wall of the Stormcast Eternals. Dauntless warriors who shatter and destroy the forces of ruin. 
Included in the box are two Vindictors with distinct poses, and a selection of paints to get them ready for conflict. Push fit miniatures for quick, easy assembly. 
The essential paint colours are supplied are in 12ml pots. 
- 1x Corax White
- 1x Leadbelcher
- 1x Kantor Blue
- 1x Retributor Armour
- 1x Stirland Mud
- 1x Agrax Earthshade

You'll also find a Citadel Starter Brush included to get you painting quickly.

---
We Also Recommend
---