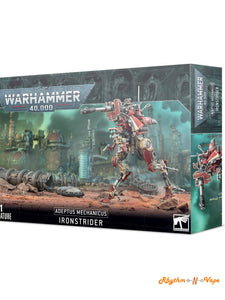 Adeptus Mechanicus Ironstrider
£3250

£32.50
Tax included.
---
---
A mobile artillery unit, the Ironstrider can be outfitted with a selection of weapons 
a twin-linked cognis autocannon or a twin-linked cognis lascannon. The split-toed legs can be posed in two different configurations, with suspensors that can be modelled at differing angles, and the entire surface of the machine crawls with sensors, data collection modules and antennae. The gunner has four head options; three hooded and one rebreather.
This multi-part, 80-component plastic kit contains all the parts necessary to build either one Ironstrider Ballistarius or a Sydonian Dragoon, and features a small transfer sheet and a 105x70mm oval base.
---
We Also Recommend
---